Professional Residential & Commercial Non-Slip Floor, Shower and Bathtub Treatments
We specialize in the application of non-slip, long lasting treatment, which when applied causes a chemical reaction that leaves the surface of hard mineral existing floors and porcelain/enamel bathtubs with a higher friction level and no visible changes. Our product has been developed and proven for concrete, quarry tile, Spanish tile, ceramic tile, glazed brick, marble, terrazzo, porcelain/enamel, and many other hard mineral surfaces.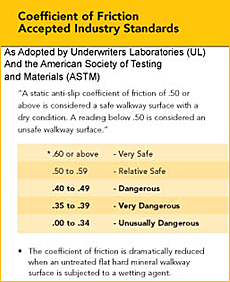 The end result is an increase in coefficient of friction up to 400% when subjected to water.
Reduced risk of falling
No more rubber mats or decals
No more worries when floors are wet
Feet will no longer slip out from under you
USDA approved
Non-toxic/environmentally safe
No down time! Floors immediately available for use upon completion
Easy floor care
2-year warranty
Meets ADA and OSHA Standards