What you should know
According to the National Center for Injury Prevention and Control, falls are the leading cause of unintentional, non-fatal injuries for people of all ages. The bathroom is the number one place for falls in the home, where water is present.
Experts agree, that installation of safety grab bars is critical in reducing falls, particularly in the bathroom.
Grab bar placement and proper installation all critical in their safe usage when preventing falls.
Measurabilities Home Safety specializes in clinically guided, safety grab bar installation, both residentially and commercially. Whether you are in a home, condominium or an apartment, safety grab bars are a simple, affordable solution for reduction and elimination of falls.
Most importantly, we provide a free home safety assessment performed by our licensed physical and occupational therapists, who will make recommendations customized recommendations for safety grab bar installation and any bath safety products you may need.
Remember, a handyman can install a safety grab bar, but is not a licensed clinician and therefore, has no clinical understanding of your current health conditions. Placement is critical and requires clinical expertise for effectiveness.
In addition to safety grab bars, Measurabilities can provide a variety of bath safety products, including commode risers, shower chairs, transfer benches, handheld showers and a variety of other bathroom related fall prevention solutions.
Grab Bar FAQ 
How do I know if I need a grab bar?
MEASURAbilities Home Safety provides your "prescription for prevention" by providing a free home safety assessment performed by our licensed physical therapist. Through expertise, the therapist will determine clinically the optimal location, placement and size of the safety grab bars you need, based on your individual circumstances. 
How do I know what size grab bar I will need?
A MEASURAbilities Home Safety licensed physical therapist will come to your home and evaluate your grab bar needs. Grab bars come in a variety of sizes and the size and location of the grab bar installation will depend on your specific needs in your tub, shower and bathroom areas. Most importantly, all installations are clinically guided based on individual diagnosis or physical limitation to ensure optimal fall prevention safety outcomes.
Will I have a selection of grab bar styles to choose from?
MEASURAbilities Home Safety carries a full line of Moen safety grab bars in a variety of styles, sizes and finishes, designed to be compatible with your bathroom fixtures and décor.
Am I required to purchase a minimum number of grab bars?
No. The goal of MEASURAbilities Home Safety is to ensure you are safe. Our professionals will help you identify locations, which may benefit from the installation of a grab bar. You and the MEASURAbilities specialist may identify one or more areas where you feel you would most benefit from a grab bar installation. The therapist will measure and observe you navigating the desired area to ensure proper placement.
What can I expect on installation day?
Your MEASURAbilities Home Safety professional will have pre-measured the locations you have chosen for grab bar installation on their first visit to your home. On installation day, the grab bars will be installed in the marked locations. The installation process is brief, depending on the quantity and location of grab bars being installed. Grab bars are installed using ADA installation guidelines.
We are licensed, bonded and insured – Arizona contractors, ROC# 290652. Our contractors are professional and knowledgeable. Our goal is to keep you safe, and help prevent falls.
---
Call MEASURAbilities Home Safety today and schedule a free grab bar, in-home consultation. We offer safe solutions to help prevent you from falling! 480-214-9725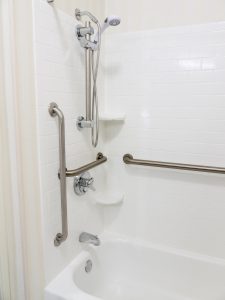 Safety Grab Bars for any type of shower enclosure.