Aging In Place House Plans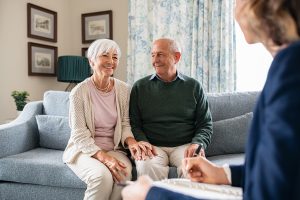 For seniors looking to age in place, there are many ways to turn your house into a forever home. Safety is crucial when planning any updates or remodels to the home after age 55. Customizing your home to age in place will undoubtedly make it a safer and more valuable environment. Here are a few ways to create a safe house for senior living.
How To Create A Home To Age In Place
There are many minor and significant updates one can make to create a safer living environment. Whether it's a minor adjustment or full-scale remodel, here are a few simple steps you can take to age in place as comfortably as possible.
First-Floor Living
The suggestion is for all senior citizens to move permanently to the first floor. This is the safest way to age in place at home. There are many home designers that can configure the home to your liking and safety needs. Some necessities for first-floor living include a full bathroom, efficient kitchen space, living spaces and laundry access. Roomy pathways are also recommended. Install railings in pathways and secure all carpeting to the floor.
Easier Entryways
The best way to create easier access to your home is by installing a no-step entrance. This means you should create a flat landing outside the door that is also sheltered from any potential inclement weather. Secondly, add doors that are at least 36 inches wide with lever handles in place. A nearby bench is a good idea to have indoors, as this can serve as a safe place to change footwear. All rugs inside and outside need to be secured with nonslip rubber pads underneath.
Safety In The Bathroom
Falls in the bathroom can be extremely dangerous for the elderly. Thankfully, many bathrooms can be designed with safety in mind. Design the bathroom with lots of space for the potential of wheelchairs or even installing more grab bars in the future. Entry doors should slide open like barn doors. Tub/shower areas should come complete with grab bars. You can also install grab bars around the toilet.
Kitchen Designs
Ensure all frequently used items are always within easy reach. Open kitchen plans, which are very popular nowadays, typically maximize lighting and sightlines. Layered lighting tends to be aging-friendly. There really is no limit on designs or types of materials to use for the kitchen, the goal is simply to keep everything within reach and make the space easy to maneuver.

Home Safety Checklist
A home safety assessment offers a unique way to proactively assess your home's safety. This assessment can help seniors who live independently or have an older home with potential dangers. Check out the CDC's guidelines here for more information.
A home safety checklist needs to include the following items:
Kitchen
Keep most frequently used items on the lower shelves.
Have a sturdy step stool in the kitchen, if needed.
Bedrooms
Tub and/or shower floors should have nonstick rubber mats.
Have grab bars to use for getting in and out of the tub.
Grab bars can be placed around the toilet, as well.
Bathrooms
Light(s) should be near the bed within reach.
Light the path from the bed to the bathroom well with nightlights.
Stairs
Remove any loose objects from the stairs/steps.
Fix any broken or uneven steps.
Make sure there is no loose or torn carpeting in the area.
Have sufficient lighting above the stairways.
Make sure there is a light switch at the bottom and top of the staircase.
Have handrails on both sides, making sure they are not loose or broken.
Handrails should run the full length of the stairway.
Floors
Keep paths free of any furniture in each room of the house.
Secure all throw rugs with double-sided tape or nonslip backing.
Make sure there are no other objects, such as papers, boxes, shoes or blankets on the floors.
Keep all wires securely taped or coiled next to walls.

Fire Safety Checklist
There were more than 363,000 residential fires in the year 2018, according to SafeWise. With more than 3,000 lives lost in these fires, it's crucial that homeowners do everything they can to prevent these disasters. Follow this guide:
Buy A Fire Extinguisher
Every homeowner should have at least one fire extinguisher in the home. Make sure all family members know exactly where it is located and how to operate the extinguisher. Storing the extinguisher by the kitchen and/or fireplace is suggested.
Install Fire Alarms
Fire alarms should be installed on every level of the home. Some alarms can be monitored using a mobile app.
Unplug Any Unused Appliances
Ensure that all appliances are in good working order, and that no wires are frayed. Do not overload any electrical outlets. It is suggested to unplug any appliances that aren't used frequently.
How To Get Aging In Place Home Design
Thinking about adding safety grab bars, a raised toilet seat or other modifications to prevent falls in your home? Our physical and occupational therapists provide free home safety screenings, and will make clinically guided fall prevention recommendations, as well as create a customized plan to fit your individual needs. We follow up with clinically guided installation of all of our fall prevention home safety products.
Our clinically guided solutions will ensure you and your loved ones can navigate your home environment safely and with confidence. Visit our Home Safety Solutions page to learn about the products and services we provide and install (we are licensed, bonded and insured), to help you prevent falls in your home.