Aging In Place Remodeling: What You Need To Know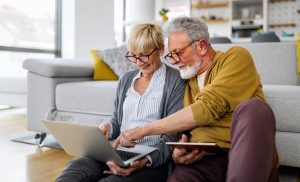 For seniors looking to age in place, there are many ways to remodel your house, creating a forever home. Safety is crucial when planning any updates or remodels to the home after age 55. Customizing your home to age in place will undoubtedly make it a safer and more valuable environment. Here are a few ways to create a safe house for senior living.
Home Safety And Comfort
Of course, any home remodeling must accommodate any potential changes in mobility. Mobility can be a challenge specifically in the bathroom. Some simple renovations could include adjusting the height of the toilets, step-through tubs, bath bars and showers.
Stairs present a new set of issues for seniors as they age in place. Adding a chair lift can be a great way to make second-story access possible for all. Chair lifts enable seniors to access areas they typically cannot without mobility issues.
Alzheimer's patients generally have no issues with mobility. This means safety should be the focus when remodeling the home. For example, electronic door chimes that sound throughout the home are an easy way to alert anyone currently caring for the patient.
As we age, we may lose our ability to see into darkened areas and at night. Lighted switches and motion-activated lighting are two convenient safety features to add to the home. In addition, lighted cover plates and outlets will undoubtedly make it easier for seniors to find the switch.
Universal Design
Universal design is defined as a specialty seeking to create environments and products that offer comfort and safety for all people. Today, multi-generational households are much more common than they were just a decade ago. This is due largely in part to the recent recession. This means planning ahead for such a reality is worth the time and effort. Homes using a universal design work well for the elderly and younger generations.
These are the practical principles that are implemented during the universal design process:
Swap out traditional faucets for ones with blade handles or motion controls.
Replace all door knobs with levers.
Eliminate stairs and/or level changes when possible.
Widen hallways and doorways.
Consider installing automatic flushing mechanisms.
Install some anti-scalding temperature controls in the shower.
Lower all wall switches.
Lower cook top so burners are accessible for all.
Aging In Place Remodeling Ideas
There are many minor and significant updates one can make to create a safer living environment. Whether it's a minor adjustment or full-scale remodel, here are a few simple steps you can take to age in place as comfortably as possible.
First-Floor Living
The suggestion is for all senior citizens to move permanently to the first floor. This is the safest way to age in place at home. There are many home designers that can configure the home to your liking and safety needs. Some necessities for first-floor living include a full bathroom, efficient kitchen space, living spaces and laundry access. Roomy pathways are also recommended. Install railings in pathways and secure all carpeting to the floor.
Easier Entryways
The best way to create easier access to your home is by installing a no-step entrance. This means you should create a flat landing outside the door that is also sheltered from any potential inclement weather. Secondly, add doors that are at least 36 inches wide with lever handles in place. A nearby bench is a good idea to have indoors, as this can serve as a safe place to change footwear. All rugs inside and outside need to be secured with nonslip rubber pads underneath.
Safety In The Bathroom
Falls in the bathroom can be extremely dangerous for the elderly. Thankfully, many bathrooms can be designed with safety in mind. Design the bathroom with lots of space for the potential of wheelchairs or even installing more grab bars in the future. Entry doors should slide open like barn doors. Tub/shower areas should come complete with grab bars. You can also install grab bars around the toilet.
Kitchen Designs
Ensure all frequently used items are always within easy reach. Open kitchen plans, which are very popular nowadays, typically maximize lighting and sightlines. Layered lighting tends to be aging-friendly. There really is no limit on designs or types of materials to use for the kitchen, the goal is simply to keep everything within reach and make the space easy to maneuver.

Aging In Place Remodeling Checklist
Follow the checklist below to discover features you may want to implement during the remodeling process:
Floor Plan
❒ Main living spaces should be on a single story.
❒ No steps between rooms on this story.
❒ Include turn space in all rooms.
Exterior
❒ Low-maintenance exterior (brick or vinyl, for example).
❒ Low-maintenance plants and shrubs.
Entryways
❒ Accessible path to all entry and exit areas.
❒ One-step entry featuring a cover.
❒ Accessible doorbell location.
❒ Nonslip flooring.
❒ Sensor light at exterior entryway.
❒ Accessible peephole location.
Hallways
❒ Well-lit at all times.
❒ Minimum of 36-inches wide.
Thresholds
❒ Flush preferable.
❒ Interior maximum of a quarter-inch.
Windows
❒ Plenty of windows to allow natural lighting.
❒ Low-maintenance exterior and interior finishes.
❒ Easy to operate and access.
Interior Doors
❒ Levered door hardware.
Garage Or Carport
❒ Carports are covered.
❒ Wider than average to accommodate vans or lifts.
❒ Remove loose objects from the staircase.
❒ Ramp to doorway, if necessary.
❒ Install handrails on steps.
Kitchen
❒ Pull-down shelving.
❒ Easy access to frequently used items.
❒ Plenty of counter space.
❒ Lower any upper wall cabinetry.
❒ Easy to read controls for all appliances.
Bathroom
❒ Widen stand-up shower.
❒ Lower bathtub for easy access.
❒ Adjustable showerheads.
❒ Lower any shower controls.
❒ Light in shower stall.
❒ Nonslip flooring in bathroom.
Stairways
❒ Install handrails on both sides.
❒ Install lift or elevator.
Flooring
❒ Slip-resistant surfaces inside and outside.
❒ Use color contrast to indicate surface level changes.
Aging In Place Remodeling Services
Thinking about adding safety grab bars, a raised toilet seat or other modifications to prevent falls in your home? Our physical and occupational therapists provide free home safety screenings, and will make clinically guided fall prevention recommendations, as well as create a customized plan to fit your individual needs. We follow up with clinically guided installation of all of our fall prevention home safety products.
Our clinically guided solutions will ensure you and your loved ones can navigate your home environment safely and with confidence. Visit our Home Safety Solutions page to learn about the products and services we provide and install (we are licensed, bonded and insured), to help you prevent falls in your home.