How To Install Grab Bars In Tile Shower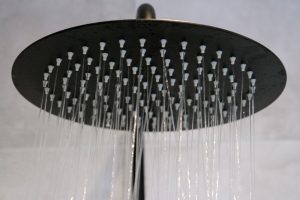 Shower grab bars are a necessity for the elderly. The good news is grab bars are easy to install. Find out how to do this below!
Installing A Grab Bar In 7 Steps
Installing a grab bar for a tile shower shouldn't take any longer then 30 minutes. Follow these steps for installation.
Step 1. Marking The Mounting Area With Painter's Tape
Get painter's tape and use it to mark the spots on the wall where you'll be installing the grab bar(s).
Extend the tape to the same length of the grab bar.
ADA requirements say grab bars must be between 33-36 inches above the shower floor.
Step 2. Using The Stud Finder
Take your stud finder and place it on the wall, searching for the nearest studs.
Once the studs are located, mark it with the painter's tape.
This is the area where you will drill holes to mount the plates for the grab bar.
Step 3. Mark Pilot Hole Locations
Use the mounting plate on your grab bar as a guide to mark the holes where the screws will eventually be inserted onto the studs.
Make sure to follow the grab bar instructions at this time and moving forward.
Step 4. Drill Pilot Holes
Find the appropriately sized drill bit, then insert it into the drill.
More than likely, the drill bit should be a 1/4 or 1/8 bit.
Drill holes into the location that you marked over the studs.
Drilling through tile may require more pressure than regular drywall, so adjust accordingly.
Step 5. Drill Screws Into Tile
Grab the screws and drill mounting plate into its locations.
If the screw seems stuck, pull the drill out and drive it in once again.
After the first mounting plate is in place, put the grab bar into position.
Hold the grab bar in place while you drill the second mounting plate.
Step 6. Applying Silicone Caulk
After both plates have been mounted, take the caulk gun and run it along the exterior of both plates.
This will help to prevent water leaks which can cause mold and mildew.
Step 7. Testing The Grab Bar
Wait around 45-60 minutes for the caulk to dry.
Then test the bar by giving it a quick tug to ensure it is secure.
The grab bar should not move at it.
If it does move, you must re-install it.
Apply enough pressure when pulling because it needs to hold your body weight.
Necessary Tools For Installation
Drill with drill bits.
Stud finder.
Tape measure.
Wall anchors.
Painter's tape.
Grab bar and plates.
Protective eye goggles.