Questions For Assisted Living Interviews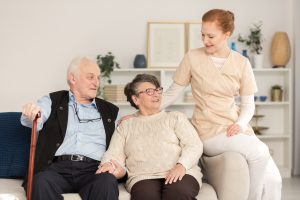 If you are searching for "questions for assisted living interviews", our checklist will help!
Questions To Ask Assisted Living
The choices may seem limitless when it comes to assisted living options. The three things that should be top of mind are care, community and cost. Use our list of questions below if you are planning an assisted living interview for your loved one(s).
1. Questions About Care
The first questions that come up should all be about care in the community. You need to find a community that has a level of care that meets your loved one's specific needs. Here are a few questions to ask during the interview:
What are all the services included in the monthly agreement?
Are services available a la carte?
How many staff members do you have compared to the amount of residents?
Can a resident transition if comprehensive care options are needed?
How do your care services compare to other communities in the same area?
2. Questions About The Community
You need to make sure your loved one will feel comfortable and safe in their new community setting. Most communities should feature a variety of activities, exercise facilities and transportation services. Ponder these few questions regarding the community:
What are the most common activities for the residents?
How are the activities chosen?
What is the usual level of participation for the activities?
Are there flexible menu options for residents with various dietary needs/restrictions?
What is the social experience like around the community?
3. Questions About Costs And Administration
Obviously, you'll want to know exactly what you are paying for each month. Here are a few examples of what to ask regarding costs and administration:
What is included in the monthly fee(s)?
Would there be a circumstance where costs are increased?
What are the current emergency handling procedures? 
More Assisted Living Interview Questions: