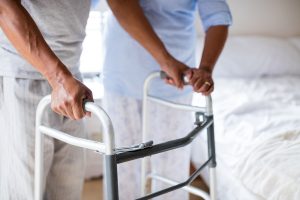 Seniors should value comfort, design and, of course, safety above all else when it comes to footwear. Here is a look at some of the best shoes to prevent falls.
Senior Footwear Necessities
Before picking out a pair of shoes, seniors need to know exactly which elements to look for in a new pair of shoes. Here are a few necessities:
Soles: Make sure the midsoles of the shoes are sturdy and not too flexible. This ensures stability during movement. Any shoe that is too flexible on the inside can easily cause falls within or outside the home. Sturdy shoes will be more slip resistant than brands featuring a flexible sole.
Closed Heels: Seniors should wear shoes with closed heals at all times. Oftentimes open heal shoes do not fit tightly enough, causing the foot to slide and create balance issues.
Size: Shoes that fit properly should be priority number one for the elderly. Shoes that are too big can cause falls, while shoes that are too small can easily cause discomfort. Try multiple pairs on before making any purchases.
Material/Design: Look for a pair of shoes that features a slip-resistant sole. A smooth sole can be slippery.
Weight: This is another important element to watch out for. Historically, heavy shoes have been a problem for seniors. If you have trouble lifting your feet to walk, falls will occur. The heels of the shoes should be no more than one inch in thickness.

5 Best Shoes For Seniors
Here are some of the best shoes for seniors today:
1. Sketcher's Women's Go Walk
Featuring a lightly padded collar and cushioned 5Gen midsole, these are some of the best shoes for elderly women to wear in and around the house. These shoes will slip on and off easily, so neither of these processes will feel like a chore. For women wishing for a choice of colors, this pair works very well. A thick rubber sole provides extra grip, perfect for movement on any sort of surface. This pair is also very lightweight, too, making falls very uncommon. The Gen5 cushioning also keeps the pair comfortable for the long haul.
2. Propet Tasha
The only drawback to this pair is the somewhat high price tag, but the cost is worth it when it comes to safety. Comfort is another factor that the Tasha is not lacking in with its rubber outsole. These shoes feature a unique U-shaped design which is built into the sole. This helps support a natural gait.
3. New Balance 990
New Balance has been popular for many years, known for its variety of wide offerings, ideal for those prioritizing comfort first. The 990 is a bit pricey like Tasha, but the shoes will last a very long time. Most seniors have commented on the great heal stability with the 990 pair. Multiple color options can make shopping a fun experience, as well.
4. Hush Puppies Men's Gil
This is the ultimate comfort footwear for senior men lounging around the house. The pros are endless: a long-wearing rubber on outsole, smooth leather upper and contoured removable EVA footbed. The leather uppers provide the perfect mix of support and comfort. Durable rubber soles are in place to prevent spills. These shoes can be offered with either laces or velcro.
5. Propet Men's Stability X Strap Sneaker
If you are looking for a pair that resembles running shoes you may have worn years ago, this is your pair! These shoes are designed specifically to prevent falls, though, making them a popular choice for the older generations. The Strap Sneaker pair comes with a removable footbed, contoured heel stabilizer and a rubber outsole.