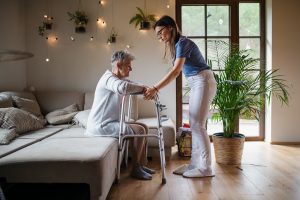 A home safety assessment is an evaluation of your home to identify and eliminate potential hazards. It is typically performed by a licensed health-care professional, such as an occupational therapist or medical social worker. The
assessment may also include home improvement recommendations to help you navigate your environment more securely, such as installing handrails in the bathroom or making sure your house has adequate lighting.
Here

are some of the things that a home safety assessment typically covers:
Fall hazards: This includes things like uneven surfaces, slippery floors, and clutter.
Fire hazards: This includes things like faulty electrical wiring, malfunctioning smoke detectors, and flammable materials.
Poison hazards: This includes things like medications, cleaning products, and hazardous chemicals.
Slip and trip hazards: This includes things like loose rugs, uneven steps, and objects that are blocking walkways.
Security hazards: This includes things like unlocked doors and windows, poor lighting, and unsecured appliances.
A home safety assessment can be a valuable tool for helping you stay safe in your home. If you are concerned about the safety of your home, you should talk to your doctor or a home safety professional about having an assessment done.
Here are some of the benefits of having a home safety assessment:
It can help you identify and eliminate potential hazards in your home.
It can help you make your home more accessible and comfortable.
It can help you reduce your risk of falls, injuries, and accidents.
It can help you improve your quality of life and independence.
If you are interested in having a home safety assessment, you can contact your local health department, aging services agency, or a home safety professional. There are also many online resources available that can help you assess the safety of your home.
Here are some additional tips for making your home safer:
Install smoke detectors and carbon monoxide detectors on every level of your home.
Test your smoke detectors monthly and change the batteries twice a year.
Keep stairways and walkways clear of clutter.
Use non-slip mats in wet areas.
Install handrails in the bathroom and near stairs.
Make sure your home is well-lit, especially at night.
Keep medications and cleaning products out of reach of children and pets.
Secure appliances and furniture so they cannot tip over.
Have a fire escape plan in place and practice it with your family regularly.
If you are looking for a complete home safety checklist for your senior loved one(s), then follow our guide below!
Home Safety Checklist For Seniors
A home safety assessment offers a unique way to proactively assess your home's safety. This assessment can help seniors who live independently or have an older home with potential dangers. Check out the CDC's guidelines here for more information.
A home safety checklist needs to include the following items:
Floor Safety
❒ Keep paths free of any furniture in each room of the house.
❒ Secure all throw rugs with double-sided tape or nonslip backing.
❒ Make sure there are no other objects, such as papers, boxes, shoes or blankets on the floors.
❒ Keep all wires securely taped or coiled next to walls.
Kitchen Safety
❒ Keep most frequently used items on the lower shelves.
❒ Have a sturdy step stool in the kitchen, if needed.
Bedroom Safety
❒ Tub and/or shower floors should have nonstick rubber mats.
❒ Have grab bars to use for getting in and out of the tub.
❒ Grab bars can be placed around the toilet, as well.
Bathroom Safety
❒ Light(s) should be near the bed within reach.
❒ Light the path from the bed to the bathroom well with nightlights.
Stair Safety
❒ Remove any loose objects from the stairs/steps.
❒ Fix any broken or uneven steps.
❒ Make sure there is no loose or torn carpeting in the area.
❒ Have sufficient lighting above the stairways.
❒ Make sure there is a light switch at the bottom and top of the staircase.
❒ Have handrails on both sides, making sure they are not loose or broken.
❒ Handrails should run the full length of the stairway.
Other Home Hazards
Pests and chemical hazards always pose a threat to homeowners. Use these safety tips:
❒ Test for radon and lead. Homes built before 1978 tend to contain lead in their paint, pipes and soil.
❒ Check for mold/mildew.
❒ Seal up any cracks in your home's structure.
❒ Use natural pesticides to avoid any contamination.
Health Status Considerations
There are certainly several health factors that could cause a senior's fall or accident at home, including the following:
Hearing Loss: Even a mild degree of hearing loss could become a fall risk.
Vertigo: This can make the elderly dizzy to the point where they can no longer balance properly.
Vision Problems: Seniors should undergo yearly tests to ensure any eyeglass prescriptions are up to date.
Medications: Certain types of medications can cause balance issues, dizziness or overall weakness.
Strength: Ensure strength, mobility and balance are always in good shape.
Foot Pain: Senior citizens experiencing pain or numbness in their feet could fall at home.
Dehydration: Seniors need to stay hydrated all throughout the day.
Vitamin D Deficiency: Low levels of vitamin D can result in reduced muscle strength and physical performance.
Home Safety Assessment For Seniors
If you are an older adult or have a loved one living on their own, a home safety assessment is a great way to find and eliminate any safety concerns. This assessment is typically performed by a licensed healthcare professional, including medical social workers or occupational therapists. The assessment may include things such as home improvement recommendations. Medical professionals may recommend installing handrails and extra lighting, for instance.
Since falls are one of the most common causes of injury among seniors, these assessments are a crucial preventative measure towards improving safety. One in four Americans age 65-plus fall every year, according to the National Council on Aging. Falls are the number one cause of injury-related deaths for seniors today.
Thinking about adding safety grab bars, a raised toilet seat or other modifications to prevent falls in your home? Our physical and occupational therapists provide free home safety screenings, and will make clinically guided fall prevention recommendations, as well as create a customized plan to fit your individual needs. We follow up with clinically guided installation of all of our fall prevention home safety products.
Our clinically guided solutions will ensure you and your loved ones can navigate your home environment safely and with confidence. Visit our Home Safety Solutions page to learn about the products and services we provide and install (we are licensed, bonded and insured), to help you prevent falls in your home.